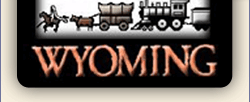 About Us
People have been making "tracks" across the southern half of what is now known as the State of Wyoming for thousands of years. More recent centuries have seen the westward migration of those seeking a new life in what was to them unexplored territory, traveling on foot, on horseback, and in ox carts and wagons, leaving deep ruts still visible today. Next came the railroads, and all those involved in the construction of that new ribbon of rails across the landscape. The most recent "track" is the one we travel on today, the Lincoln Highway, most of which is now Interstate 80.
Tracks Across Wyoming celebrates those who followed all of these "tracks" before. A consortium of small museums and historic sites across the southern transportation corridor of the state, we preserve the varied histories of those who came here before: some who settled and established large ranches; others who followed the "gold fever", took what they could, but left small communities in their wake; and others who literally built the tracks with their hard work. By working together as part of the Tracks Across Wyoming organization, we can provide visitors a more thorough understanding of how this sometimes harsh but beautiful landscape came to be settled. From Pine Bluffs on the eastern edge of the Tracks corridor, to Evanston on the western edge, we offer visitors exhibits which record the past and events that continue the traditions of those who came before.
Take time to leave the Interstate and stop in some of our communities. They include big cities (for Wyoming) like Cheyenne and Rock Springs, and small towns like Centennial and Encampment. You'll find a warm welcome wherever you go. The Tracks Across Wyoming member attractions can refer you to others where you can continue your discoveries about your favorite topics, or just enhance your journey across the state.
For more information about each of the towns that are part of the Tracks corridor, click on the Communities tab. For a list of Events held across the corridor throughout the year, click on the Calendar and Special Events tabs. For links to our tourism partners, click on the Links & Info tab. If you need more information, feel free to send us an e-mail.