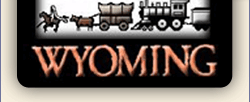 Laramie County
Community - Cheyenne
Wyoming's capital, named after the area's original inhabitants, the Cheyenne people, formed in 1867 when Union Pacific Railroad tracks came through heading west. Railroad surveyor General Grenville Dodge established his camp on Crow Creek, at the junction of major routes leading to the region's military camps. A depot evolved to supply Army camps and the railroad. Fort Russell protected the community from hostile Indians, and in the early days, city dudes mingled with mule skinners, soldiers, rail-roaders, lawmakers, sheriffs, rustlers, stage drivers and outlaws. Cheyenne became a railroad, legislative, and shopping center in this adventurous region.
Historic Downtown Cheyenne


The Downtown Cheyenne Historic District encompasses approximately seven blocks in the core of Cheyenne's earliest business district. Dating from the 1871, most of the buildings represent the first permanent masoNational Register of Historic Placesy commercial structures. The architecture is eclectic with a heavy emphasis on commercial Victorian construction. The Historic District primarily owes its significance to the fact it is the original core of Cheyenne's Central Business District. When James R. Whitehead opened up the Union Pacific Land Office on July 9, 1867, lots in the proposed district were among the first sold. The area quickly became the heart of commercial activity.
Listed on the Listed on the National Register of Historic Places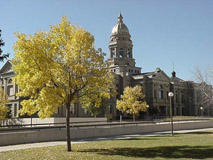 Historic Neighborhoods
Capitol North Historic District
The Capitol North District, built between 1905 and 1930 is a blend of middle to upper class housing, primarily of frame construction with clapboard siding. Frame styles range from single story plains cottages to two story picturesque cottages. Several streets have brick veneer and brick construction houses in two story cottage modes and eclectic villa forms. Much of the architectural character of the district derives from the similarity of features of the properties. Because of its proximity to the State Capitol, this district has provided housing for officials including governors, state legislators, mayors, judges, and other elected professionals
Listed on the Listed on the National Register of Historic Places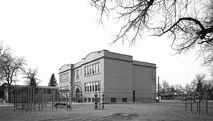 Cheyenne Historic Public Schools
Education was a primary concern of Cheyenne's citizens from its beginnings in 1867 as a ''track town'' along the first transcontinental railroad. The Territory of Wyoming was created in 1868, and Cheyenne was designated the temporary capital. The Legislative Assembly in 1869 organized the territorial school system in ''An Act providing for the organization of school districts, schools and for other purposes.'' The general organization was quite simple, consisting of a territorial superintendent of public instruction, a county superintendent for each county, and the establishment of school districts within each county. Ten Cheyenne schools are on the National Register.
Listed on the Listed on the National Register of Historic Places
Cheyenne Historic Warehouses
This property, located at 810-814 West 23rd Street was formerly served by railroad sidings on the east and west sides. Located on the edge of Cheyenne's original commercial district and still adjacent to the railroad mainline, it consists of an original one-story flat roofed brick masonry warehouse built circa 1915-16, and a two story addition, built in 1927. It represents the early 20th century commercial activity in the city, which had it origins as a railroad town in 1867. The building served as a flour mill, bulk oil storage facility, and freight and plumbing warehouse.
Listed on the Listed on the National Register of Historic Places
Lakeview Historic District
The Lakeview Historic District is significant because it is a cohesive residential area representative of working class architecture found throughout historic Cheyenne. The earliest known structures in Lakeview date to about 1880. Development continued at a steadily increasing pace until about 1930. Construction then slowed, so that by the 1940s, only the occasional vacant lot was being developed. Lakeview is a neighborhood of modest homes originally occupied by railroad workers, clerks, and small business owners. As such, Lakeview is associated with the underlying growth of Cheyenne as a regional center and railroad town.
Listed on the Listed on the National Register of Historic Places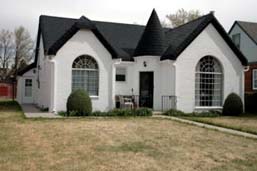 Moore Haven Heights Historic District
The Moore Haven Heights Historic District is a cohesive residential area integrally associated with and representative of the significant trends that contributed to the development of Cheyenne from the early twentieth century through the late 1950s. As conceived and carried out, Moore Haven Heights represented an upscale residential district constructed with well-built brick homes of a certain value with similar architectural styles to present a homogeneous appearance. Strict covenants assured that substantial brick homes were built and lots were restricted to single-family dwellings with a garage. As a result, Moore Haven Heights became an established upper-middle class neighborhood.
Listed on the National Register of Historic Places
Rainsford Historic District
Constructed between 1885 and the 1930s, the Rainsford neighborhood has its own unique history.Named for George Rainsford, an eastern architect who came west to try his hand at horse ranching in the 1870s and eventually designed homes for his contemporaries in Cheyenne, the neighborhood reflects his love for simplified traditional styles and varied roof shapes. Rainsford's designs were widely copied, borrowed from and expanded upon. This area was once preferred by Cheyenne Cattle Barons. Rainsford District is an excellent expression of upper and upper middle class housing popular in the late 19th and early 20th centuries.
Listed on the National Register of Historic Places
Southside Historic District
The Cheyenne South Side Historic District is adjacent to the Union Pacific Railroad freight yards on the south and is physically separated by the tracks from Cheyenne's original commercial district and residential neighborhoods. This district is unique in that it represents a working class neighborhood, originally dependent on the railroad for employment and separated from Cheyenne by the intervening multiple tracks and freight yards. The South Side comprises the original "blue collar" residential area and includes the southern half of the original city plat as filed in 1867 by General Grenville M. Dodge, chief engineer of the Union Pacific Railroad.
Listed on the National Register of Historic Places
Attractions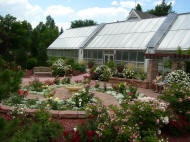 Cheyenne Botanic Gardens
710 S. Lions Park Drive, Cheyenne
Phone: (307) 637-6458
Hours: Botanic Garden Grounds always open from dawn to dusk. Greenhouse is open weekdays 8 – 4:30, Saturday 11:00 – 3:30. Closed Sundays and holidays. Paul Smith Children's Village open Tuesday through Saturday 9:00 – 5:00, Sunday 10:00 – 4:00. Closed Mondays. Call 307-637-6349 for current information.
Admission: Free - However, your donations are appreciated! All we ask is that you sign our guest book in lieu of a fee.
Description: At the Cheyenne Botanic Gardens, you will find history, inspiration and innovation along with community, beauty and sustainability. Our solar conservatory displays tropical plants, herb, cacti and many other useful and beautiful plants. There is always something in bloom every day of the year! Come see first-hand how people have come together in this small city under extreme weather conditions to perpetuate the values of community, beauty and sustainability.
Cheyenne Frontier Days Old West Museum
4610 Carey Avenue PO Box 2720, Cheyenne
Phone: (307) 778-7290
Hours: Open 10 am to 4 pm daily, seven days a week.
Adults $7, Children 12 and under free. Museum members free. Children 12 and under free.
Museum members free.
Free parking, except during Cheyenne Frontier Days
Description: Come see for yourself why we are the #1 year 'round cultural tourism attraction in Southeast Wyoming. Marvel at one of the nation's largest collection of historic horse-drawn carriages and wagons, experience the region's most celebrated western art exhibitions and trace the history of Cheyenne Frontier Days from its humble beginnings in 1897 to the world renowned pageantry today as The Daddy of 'em All ®.
Cheyenne Frontier Days Park

4610 Carey Ave, Cheyenne
Phone: (307) 778-7200
Hours: Last full week in July
Admission: Varies by activity
Description: During Cheyenne Frontier Days at the end of July, visiting American Indians always camp on a corner of Frontier Park, which became a tourist Mecca. "Wild Horse Gulch" highlights Western merchants, craftspeople, artisans, and even some special guests like Buffalo Bill Cody, Wild Bill Hickok, and Wyatt Earp. Kick up your heels and have good time at our rootin' tootin'est saloon, the Buckin' A. The Old West Museum, open year round, has diverse exhibitions and awe-inspiring collections, including authentic stage coaches, early ice and milk wagons, and rare Drop Front Phaetons, over 30 in all.
F.E. Warren AFB (Fort D.A. Russell) & Warren ICBM & Heritage Museum

7405 Marne Loop, Bldg. 210 , FE Warren AFB
Phone: (307) 773-2980
Hours: Monday - Friday 0800 - 1600 (8:00 am - 4:00 pm) Closed Weekends and Holidays
Admission: Free. Non Military members need to contact the museum first before visiting, due to security measures.
Description: The Museum is housed in historic Building 210, the Army commander's headquarters at the turn of the century. Exhibits are located in the first floor rooms, as well as the museum annex building 211, depicting the history of missiles and that of the 90th Space Wing. On the second floor of Bldg. 210 the rooms create a look back into the life of the men and women stationed at the post/base.
High Plains Arboretum

710 S. Lions Park Drive, Cheyenne
Phone: (307) 637-6458
Hours: Visitation is allowed during daylight hours except during hunting season
Admission: Free
Description: The site is currently a long-neglected woody plant research station. The Cheyenne Urban Forestry divisions and the Cheyenne Botanic Gardens are currently working to preserve, the existing plants along with help from the Friends of the High Plains Arboretum and Friends of the Cheyenne Botanic Gardens.
As funding is identified (both private and public) we will soon be proceeding on restoring and enhancing this historic site. Please be patient as we take steps to save this important site. Visitation is allowed during daylight hours except during hunting season. While it is a beautiful site, interpretation is sparse.
Historic Cheyenne Union Pacific Railroad (UPRR) Depot & Museum

Number One Depot Square 121 West 15th Street, Cheyenne
Phone: (307) 632-3905
October – April: Monday – Saturday, 9AM - 5PM, Sunday 11AM - 3PM May – September: Monday - Friday 9AM - 6PM, Saturday 9AM- 5PM. Sunday 11AM- 5PM
Admission: Admission is $5 with a $1 discount for seniors, and children 12 and under are free.
Description: The Cheyenne Depot Museum is housed in the newly renovated Union Pacific Depot in downtown Cheyenne. The museum tells the story about the establishment of Cheyenne during the construction of the Transcontinental Railroad, the operation of the Union Pacific Railroad and the history of the construction of the Union Pacific Depot. You can view the Union Pacific Main Yard from the new building on the west end of the Depot, and experience the second floor of the Cheyenne Depot Museum which is a "touchable museum experience" that has received rave reviews from children of all ages.
Historic Governors Mansion Museum
300 E. 21st Street , Cheyenne

Phone: (307) 777-7878
Hours: Open Winter (Sept. 1-May 31) Tuesday-Saturday 9 a.m. to 5 p.m.; Closed on Sunday and Monday. Summer (June 1-August 31) Monday-Saturday 9 a.m. to 5 p.m. and Sunday 1-5 p.m.
Admission: Free but donations appreciated
State Historic Site,
Description: This Colonial Revival Executive Mansion served as home to Wyoming's Governors and their families from 1905 to 1976. The Mansion brings to life those who served the state of Wyoming and the Nation. It's greatest distinction is that in 1925 it was the first in the United States to be occupied by a female Governor, Nellie Tayloe Ross. This stately home has hosted neighborhood children to U.S. Presidents. Self guided tours use electronic touch-screen videos and cell-phone audio tours to learn about the former Governors, First Ladies, Women's Suffrage, the Cold War Era and Mansion architecture. Group guided tours available.
Nelson Museum of the West

Preserving the Past for the Future
1714 Carey Avenue , Cheyenne
Phone: (307) 635-7670
Hours: May, September and October, Monday - Friday 9:00am - 4:30pm
June, July and August, Monday - Saturday 9:00am - 4:30pm
November - April: Closed
Admission: $4.00
Description: Located at 1714 Carey Avenue in Cheyenne, Wyoming, the 18,000 square foot building was originally constructed for use as a women's fine clothing and fur store. The Museum building has been totally remodeled and is fully handicapped accessible. A climate controlled 2,500 square foot vault is home to the Museum's collection.
Wyoming State Capitol
200 W. 24th street , Cheyenne
Phone: (307) 777-7220
Hours: Capitol Hours 8:00 AM 5:00 PM M-F; Visitor Services & Self Guided Tours
8:30 AM 4:30 PM M– F; Guided Tour provided by appointment or on demand when time permits 9:00 AM 3:30 PM M–F. Call 307-777-7220 for reservations. Closed on weekends and Holidays.
Admission: Free
Description: Arrival of the Union Pacific in 1867, as crews laid tracks westward, changed Cheyenne from a tent town to a city within a few months. In 1886, the Territorial Assembly authorized construction of the State Capitol. The cornerstone was laid in May of 1887 with the structure completed the next year. The building is renaissance revival, reminiscent of the National Capitol in Washington, D.C. The dome of the Capitol has been gilded six times with 24-carat gold leaf. Of special interest are the Tiffany leaded glass ceilings in the House and Senate Chambers, added to the original building in 1917.
Wyoming State Museum
2301 Central Avenue , Cheyenne
Phone: (307) 777-7022
Hours: Monday through Saturday 9:00 a.m. - 4:30 p.m. Closed State and Federal Holidays.
Admission: Free
Description: The mission of the Wyoming State Museum is to serve as an educational, historical, and cultural institution, whose goal is to collect, preserve, and interpret artifacts that reflect the human and natural history of Wyoming and the Rocky Mountain West.
Community - Pine Bluffs
Pine Bluffs, on the old Texas Cattle Trail, was the largest cattle shipping point on the Union Pacific Railroad in the 1880s. Known as Rock Ranch, the name was changed because of the pines on the nearby bluffs. The Pine Bluffs Lighting Company formed in September of 1909 and used a new gas process, which gave more brilliant light. The 1909 "Harvest Festival" showcased the vegetable and dry-farming in town. A Grain Palace, built entirely of different grain crops, covered 24x36 feet, stood 14 feet to the eaves, and was filled with exhibits of area artwork made from home-grown products.
Attractions
Texas Trail Museum

201 W. 3rd Street , Pine Bluffs
Phone: (307) 245-3713
Facebook: https://www.facebook.com/TexasTrailMuseum
Hours: Open May 1st through Sept 30th. Hours are Wednesday through Saturday, 9:00 am to 4:00 pm, and Sunday 1:00 pm to 4:00 pm. Closed Monday and Tuesday.
Admission: No entrance fee, but donations are greatly appreciated.
Description: Established by a small group of dedicated individuals in 1986, the museum's mission is to preserve and restore the heritage of the Frontier crossroads area (Eastern Laramie County, Wyoming) for future generations, through displays and education. Displays include generators, diesel engines, a 1938 fire engine, the first school house in the area, a restored Catholic church, the Brodine-Walker Boarding House, and UP caboose 25276.
Windows on the Past Interpretive Center
I-80 Rest Stop, Pine Bluffs
Phone: (307) 768-2208
Hours: WOTP is open 9-5 during the summer with professionally-trained tour guides, but please check with at the Rest Area Information Area for schedules. Also, call the Pine Bluffs City Hall at 307-245-2746.
Admission: Admission is free but donations are requested
Description: The High Plains Archeology Project is long-term Town of Pine Bluffs/University of Wyoming research and public education project based at the Windows on the Past Interpretive Center, located just west of the Rest Area. The Center is built over part of the Pine Bluffs Archaeological Site, where stratified deposits extend from the Early Historic Frontier back through more than 20 cultural levels and more than 10,000 years. There is a sidewalk from the Rest Area over to the excavation site for those who enjoy some exercise, or a parking area around at the building.